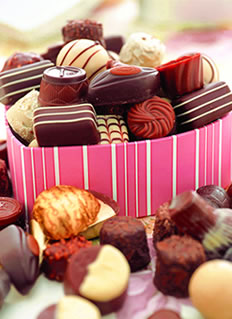 Chocolate
OF THE MONTH CLUB
Independently rated #1 for seven years running 2010 - 2016!
Highest Quality - Premium chocolates hand-crafted from the finest and freshest ingredients!
Backed by our exclusive "They'll Love It!" Guarantee!
FREE SHIPPING every month in the Continental U.S.!
Personalized gift announcement and Chocolate Lover's Newsletter!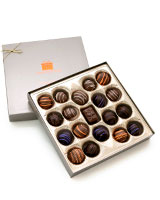 Why should I choose the Amazing Clubs Chocolate of the Month Club?
When you choose Amazing Clubs, you're choosing the largest and highest-rated provider of gourmet gift clubs in the world. And with over 1 Million satisfied customers, you can rest assured that your gift recipient is going to love their gift month after month.
What kinds of chocolates will I receive with my membership?
We offer only the finest gourmet chocolates from specialty chocolatiers and confectioners across the country. All of our chocolates are produced exclusively for our club members in small batches from 100% natural ingredients.
Do you send a wide variety of chocolates?
We'll generally feature one or two different chocolates each month. Over the lifetime of your membership you can expect to receive truffles, creams, meltaways, pralines, caramels, turtles, and other varieties of gourmet, hand-dipped chocolates.
Do you offer sugar-free selections?
No. We do not offer any sugarless chocolates in our monthly selections.
How much chocolate is in each monthly shipment?
Each month our Chocolate of the Month Club features an entire pound of gourmet, hand-dipped chocolates.
How are your chocolates packaged?
All of our chocolates are delivered in specialty packaging to prevent spoilage and to ensure safe delivery. In the summer months we include ice packs when delivering to warm weather climates. You'll also receive our Chocolate Lovers Newsletter with information regarding our monthly selections and discounted offers should you wish to re-order a specific chocolate.
Can I choose the chocolates that I'll receive?
Part of the fun of each monthly shipment is the excitement of experiencing our latest selection for the first time. So, while you cannot specify in advance what chocolates you'll receive, rest assured that each monthly delivery is personally selected by our taste-testing professionals for freshness, gourmet ingredients, and exclusivity.
What if I don't like one of the chocolates? Do you offer a guarantee?
Your satisfaction is our business. If you're ever unhappy with our service, you can cancel your membership and receive a full refund for any unshipped merchandise. No questions asked and no additional costs!
How long are your memberships?
As long as you like! We offer 3, 6, and 12 month memberships and our Chocolate of the Season Club with new selections each spring, summer, fall and winter. You can also join with a monthly renewable membership.
If I send a gift membership, do you include a message?
Of course. When placing your order you'll have the option of sending a gift announcement by U.S. mail or email. You can even print a gift announcement right from your computer.
How do you ship your products?
We ship all monthly gift clubs to arrive the last week of each month. All shipments are sent by express delivery (FedEx or UPS) and are delivered in protective packaging for safe arrival.
Can you ship to PO boxes, FPO or APO boxes?
Sorry, no, We can only ship to residential and business addresses.
Can you ship outside the United States?
We apologize but due to the perishable and delicate nature of some of our gourmet items, we can only ship within the continental 48 United States. If you're shopping for delivery to Canada, please visit our Canadian website at AmazingClubs.ca.
How can I pay for my order?
We accept Visa, MasterCard, American Express, and Discover.
Do you offer corporate quantity discounts?
Yes, we have a variety of corporate programs encompassing all of our gourmet monthly gift clubs. Please call our corporate sales team at 1-800-988-5518 for more information. You may also contact us by email at corporate@amazingclubs.com.
How can I reach you?
Assistance is available 7 days a week, 7am to midnight, eastern time.
By Phone: 1-800-507-4660
By Email: support@amazingclubs.com.
Ready to order?
Order online today or call us toll-free at 1-800-507-4660.