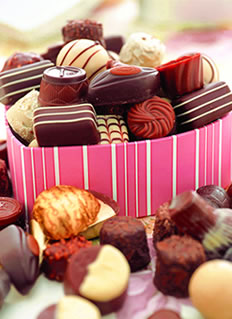 Chocolate
OF THE MONTH CLUB
A new 1lb selection of specialty chocolates every month!
Highest Quality - Premium chocolates hand-crafted from the finest and freshest ingredients!
100% satisfaction guaranteed!
FREE SHIPPING every month!
Personalized gift announcement!
Chocolate Lover's Newsletter with every shipment!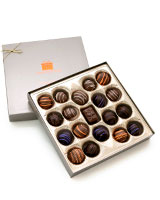 Why have over 1 million satisfied customers
chosen Amazing Clubs? It might be our extraordinary value and competitive prices. It might be our exceptional customer service and dedication to our members. But most likely it's because they know that a gift from Amazing Clubs is a gift of unparalleled quality.
We're proud of the premium chocolates we deliver to our members every month. Over the last 12 months we've featured the following selections in the Chocolate of the Month Club.
September, 2015
Milk Chocolate Turtles
White Chocolate Turtles
Dark Chocolate Turtles
August, 2015
Milk Chocolate Toffee Squares
Dark Chocolate Toffee Squares
July, 2015
Milk Chocolate Peanut Butter Balls
Dark Chocolate Peanut Butter Balls
June, 2015
Milk Chocolate Covered Caramels
Dark Chocolate Covered Caramels
May, 2015
Milk Chocolate Dipped Oreos
White Chocolate Dipped Oreos with Chocolate Chips
Dark Chocolate Dipped Oreos with Coconut
Milk Chocolate Dipped Oreos with Peanut Butter Chips
April, 2015
Dark Chocolate Covered Cherries
Milk Chocolate Covered Cherries
March, 2015
Milk Chocolate Toffee Clusters
Dark Chocolate Toffee Clusters
February, 2015
Milk & Dark Chocolate Pecan Clusters
Milk & Dark Chocolate Almond Clusters
Milk & Dark Chocolate Cashew Clusters
January, 2015
Chocolate Chip Milk Chocolate Truffles
Red Velvet Milk Chocolate Truffles
Raspberry Milk Chocolate Truffles
Vanilla Bean Dark Chocolate Truffles
English Toffee Dark Chocolate Truffles
Black Magic Dark Chocolate Truffle
December, 2014
Cheesecake White Chocolate Truffles
Cappuccino White Chocolate Truffles
Praline Milk Chocolate Truffles
Cinnamon Latte Milk Chocolate Truffles
Mint Chocolate Chip Dark Chocolate Truffles
Bourbon Dark Chocolate Truffle
November, 2014
Chocolate Paws
Dark Chocolate Almonds
White Chocolate Cashews
Milk Chocolate Pecan Clusters
October, 2014
Dark Chocolate Black Forest Truffles
Dark Chocolate Amaretto Truffles
Milk Chocolate Strawberry Truffles
Milk Chocolate Butterscotch Truffles
Milk Chocolate Coconut Truffles
White Chocolate Creme Brulee Truffles
We know you have many choices when you're trying to send the perfect gift. Let us show you why Amazing Clubs should be your first and only choice for a gift they'll never forget!
Questions? See our
FAQ
.
Ready to order? Order online or call us toll-free at 1-800-507-4660
.